Stamina Products is proud to offer our customers a wide selection of Pilates reformer machines for home use, from affordable folding reformers to professional reformers. Each type that we sell has the same mission: bring Pilates training into your home to build up your strength, improve your flexibility, and build your endurance over time. Using high-quality components like adjustable springs, ropes, and rebounders, we can say that our reformer machines are some of the most innovative yet affordable on the market today. Shop our entire collection of reformers, equipment, and accessories below.
At Stamina Products, we offer a wide variety of stationary exercise bikes, including recumbent and upright bikes, for your home gym. Whether you're a fitness pro who's looking for an exercise bike with customizable air-resistance or you're a newbie who's looking for a folding, easily portable, and affordable stationary bike, we've got you covered. 
Types of Stationary Exercise Bikes
Recumbent Exercise Bikes
Our selection of recumbent exercise bikes includes various options for you to choose from, regardless of workout experience. Indoor recumbent bikes allow you to sit while you use the equipment making them a great option for beginners who are just starting out. 
If you're looking for a stationary bike with back support and a seat that makes sitting a breeze, check out our
Elite Total Body Recumbent Bike.
It also includes rotating handles so you can work your upper-body while your lower-body works the pedals. 
If that's not your speed, check out one of our magnetic stationary recumbent bikes like the
Magnetic Recumbent Exercise Bike 845
.
Using its resistance dial, you can easily customize your bike's magnetic resistance, and as a result, the intensity of your workout. The 845 also includes an LCD screen that shows you information, including speed, workout time, distance, calories, and a whole lot more.
For those looking for a small, portable exercise bike with built-in back support, the Stamina
Recumbent Bike with Upper Body Exerciser
might be the one for you! Not only is it smaller than other exercise bikes in our collection, but it also features a lightweight folding steel frame, making it easy to move around your home or apartment. 
These are just a few options for those looking to buy stationary recumbent bikes online! 
Upright Exercise Bikes
If you're looking to turn up your workout intensity, Stamina Products has a selection of upright stationary exercise bikes just for you. Each indoor upright bike we sell is specifically tailored for experienced athletes and fitness fanatics. With easily customizable air-resistance to LCD screens that allow you to set workout targets, our upright spin bikes are sure to deliver the results you're looking for. 
For those looking to do high-intensity interval training (HIIT), the
Stamina X Air Bike
might be the one for you. With dual-action arms that provide an intense upper-body workout, the X Air Bike is a total body solution. Not to mention, it's built using high-quality materials to ensure it remains stable yet comfortable during high-intensity workouts. 
The Stamina X Air Bike is just one of several indoor upright bikes you can buy online from Stamina Products!
Stamina Products has a wide selection of affordable compact elliptical machines to help you stay in shape whether you're standing or sitting down. Our small portable ellipticals are incredibly versatile and can be moved from room to room with ease. Unlike full-size ellipticals, our mini ellipticals can save storage space with their small, compact footprint.  Not to mention, they can be stored under your desk at the office, making it easy to burn calories while you work. 
Stamina Products is proud to offer a wide selection of rowing machines for sale that fit various budgets, including magnetic rowers, water rowers, air rowers, and more. Each one is intended to be used at home, and some are foldable, making them compact, portable, and easy to store. Not only are our at-home rowing machines built to deliver an effective full-body workout each time you use them, but they're also built for comfort. They feature aluminum seat rails for smooth sliding and oversized foot pedals alongside a padded seat and textured handles for maximum comfort. We know all too well that, during those long workouts, comfort is essential to ensure you can keep going. Each of our rowing machines also features a digital readout with information related to your workout like time, distance, calories burned, pulse, and more.  Whether you're a seasoned fitness vet who wants to add an exercise rower to their home gym or you're a beginner who's looking for a piece of equipment to help get in shape, Stamina has the rowing machine for you. Are you wondering whether or not Stamina makes quality rowing
Steppers, also known as stair climbers, is a type of exercise equipment that replicates the feeling of walking up a flight of stairs by rotating steps. Like a traditional treadmill, stair steppers allow you to simulate a workout, like climbing up stairs or going for a run that would typically be performed outdoors, within the comfort of your own home.  Stair stepper exercise machines are perfect for those looking for a low-impact cardiovascular workout that burns calories, tones muscles, and removes fat. Some of our fitness steppers even include upper body chords to provide the full-body exercise you want. Some of the benefits of using stair stepper machines include:
Toning muscles

Strengthening your core

Improving bone strength

Easy on your joints

Provides an intense cardiovascular workout
At Stamina Products, we offer a wide selection of compact, portable fitness steppers for sale online. Each stepper exercise machine we sell features built-in wheels that make it easy for you to move them around your home or apartment. Even better, we have several folding steppers available that can be easily stored when you're finished working out. With our selection of portable exercise steppers, we're sure you'll find something that works for you, whether you're
an experienced fitness pro looking to add a new piece of equipment to your home gym or you're a newbie who's looking to start fresh and get in shape.
At Stamina Products, we offer various strength training and bodyweight exercise equipment, including everything from workout benches to adjustable kettlebells. Whether you're an experienced fitness enthusiast or you're just looking to get in shape, our selection of strength training equipment should have just the thing for you.  Each piece of strength training equipment in our collection can make a great addition to any home gym. With the assortment of products we sell, you can get a thorough full-body workout in the comfort of your own home without the stresses and hassles that come with going to the gym. Even better, with bodyweight exercise equipment like the Stamina Full Body Power Tower 735 or the Stamina X Amrap Power Tower, you can work out your core, back, arms, shoulders, and legs using just your bodyweight. As a result, you won't have to store weights that take up precious space in your home or apartment. 
At Stamina Products, we're proud to offer a diverse range of exercise trampolines, large and small, that can be used for a variety of different strength-building and cardiovascular exercises. From bounce downs to jumping jacks and a variety of different abdominal workouts, our entire line of fitness rebounders is perfect for adults, regardless of age or ability, who are looking to achieve a low-impact workout.  Our selection of exercise trampolines includes everything from oval trampolines to mini, circular trampolines with an attached handle that makes it easier to get on and off. We even offer a foldable rebounder that's easy to store. Because we offer so many different kinds of exercise trampolines, you should be able to find one to help you accomplish your workout goals.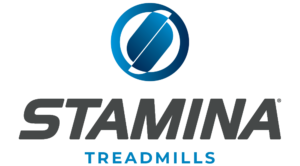 Are you looking to buy a reliable, high-quality manual treadmill? At Stamina Products, we carry a selection of manual, self-propelled treadmills for sale. Each piece of exercise equipment you see here is "magnetic," which means an electric motor doesn't power it. Instead, whoever is using the treadmill must initiate momentum to get it started.  Self-powered running/walking machines offer a myriad of benefits over more traditional electric treadmills. Most importantly, because they're missing an electric motor, magnetic treadmills typically maintain a smaller form factor, making them more portable if you want to move them around your home. Even better, manual treadmills are foldable, making them easy to store when they're not being used. On top of all that, our selection of magnetic running/walking machines features adjustable inclines and resistance, fitness monitors that track things like workout time, speed, calories burned, and more, and stabilizer caps for extra stability.