So you had a nice healthy dinner, but a while later you are feeling hungry again. Here a few snacks that you can enjoy that won't ruin all your hard work and healthy eating you did the rest of the day:
This dish is super easy to make, which is always good when you are ready to just sit down and relax for the evening.
Ingredients:
1 cup of Frozen Mango Chunks
1/3 cup of Coconut Milk
2 tbsp Hemp Seed Hearts
2 scoops of Protein Powder
Directions:
In a blender, add the frozen mango, coconut milk, hemp seeds and protein powder
Blend until pudding consistency. Add water to get desired consistency, if needed
Pour in a bowl and enjoy
Everyone has a sweet tooth now and again, and this is a great, healthy way to treat that sweet tooth.
Ingredients:
2/3 cup peanut butter
1 cup quick cooking oats, uncooked
1/4 cup pure maple syrup
2 full graham crackers, finely crushed
1/2 teaspoon of vanilla extract
Instructions:
Combine all ingredients in a medium sized bowl. Stir well with spoon. Once mixture starts coming together, use your hands to work the mixture until it's all combined.
Divide peanut butter mixture with your hands into four equal sections, there will be three balls per section for a total of 12 balls. Spoon out a large Tablespoon and roll in hands to form a 1.5" ball. Place all peanut butter balls on a plate, cover and refrigerate for a couple of hours. Store in refrigerator.
To keep the peanut butter from sticking to your hands, spray your hands with cooking spray.
Here is a great recipe for those who love pizza, but hate all the calories that come with it — it's even gluten free.
Ingredients: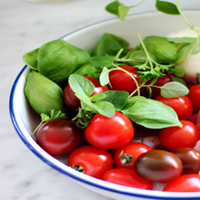 1 tube of quinoa polenta
1 tablespoon olive oil
3 Roma tomatoes, sliced
½ cup shredded mozzarella
3 tablespoons fresh basil chopped
Directions:
Pour the oil in a pan and heat on low.
Cut the polenta into 15 quarter-inch-thick slices
Place the polenta in the pan and cook each side until slightly golden brown, about 10 minutes each side.
Preheat the oven to 350 degree Fahrenheit.
Place the polenta on foil on a cookie sheet. Top each piece with a slice of tomato. Sprinkle with cheese and fresh basil and bake for 10 to 15 minutes or until the cheese is melted.
Kale chips area healthy yet still crispy alternative to bagged potato chips, which are loaded in saturated fat and excess sodium.
Ingredients:
2 bunches of kale
2 heaping tablespoon almond butter
1 tablespoon olive oil
½ teaspoon chili powder
½ teaspoon garlic powder
⅛ teaspoon cayenne pepper
½ teaspoon salt
Directions:
Preheat the oven to 350 degrees Fahrenheit. Wash the kale and dry thoroughly with paper towels. Pull the leaves off the center ribs in large pieces and pile on a baking sheet. Discard the ribs.
In a small bowl mix the nut butter, oil, spices and salt.  Pour over the kale. Use your hands to massage the kale leaves until each one is evenly coated with the spice mixture. You don't want any of the leaves to be drenched in the mixture, so take your time doing this. The more evenly the kale leaves are coated, the better they will bake.
Lay the kale leaves out flat on 3 to 4 full-sized baking sheets (work in batches if necessary.) Do not overlap. Bake for 10-11 minutes until crisp, but still green. Cool for a few minutes on baking sheet before moving. If some kale chips are still a little flimsy or damp, remove the crisp chips and place the damp chips back in the oven for a few more minutes. Store in air-tight container.
Last but certainly not least, these flourless cookies will also keep the sweet tooth at bay.
Ingredients:
3 cups powdered sugar
¾ cup unsweetened cocoa powder
¼ teaspoon salt
4 large egg whites
1 Tablespoon pure vanilla extract
½ cup semisweet mini chocolate chips
Directions:
Preheat the oven to 350 degrees Fahrenheit
Line two baking sheets with silicone baking mats. Spray mats with nonstick cooking spray. You can also line with parchment paper.
In a large bowl, whisk together the powdered sugar with cocoa powder and salt.
Stir in the vanilla and egg whites.
Whisk just until the batter is moistened.
Stir in the chocolate chips.
Scoop the batter by the tablespoonful onto the baking sheets.  Leave enough space between each cookie for them to spread out.  (About 2 ½" of space between each cookie)
Bake for 8-10 minutes or until the tops are glossy and lightly cracked.
Let the cookies cook completely on the baking sheet, and store in an airtight container.